NEED Timber Structure INSPECTIONs?
timber Structure Inspections
The most in-depth timber structure inspections to ensure public safety while saving your budget and time
Timber Structure Inspections
Timber Structure Inspections for Forty years
WRD has over 40 years of experience in timber structure inpsections and construction. Dr. Dan Tingley, our Senior Wood Technologist, has developed our tech and holds over 42 patents in Timber. Rot does not start in any specific place. Our testing gives us a 360 degree view of the timber structure and doesn't damage it.
NON-DESTRUCTIVE TIMBER Structure INSPECTIONs
Our safe timber testing is done through the EPHOD™ method. Using a stress wave timer (SWT), we hit the wood with a hammer which sends compression waves through the wood. The waves pass through and the data is received on the other end, these numbers allow us to accurately see the damage to the wood.  WRD drills six holes in the wood with an increment borer to take as samples. After we take these samples, we patch the hole with a treated wooden plug. The samples are then sent to our IAS certified lab to determine the density of the wood and the species of wood. This allows us to create a unique repair plan tailored to your structure.
"
This (Dr. Tingley) has opened my eyes to many of the reasons for the short life span of our timber bridge components, provided an understanding of what is required to extend their lives and given hope to the restoration of timber bridges that had already been written off. – David Goodman, Cassowary Coast Manager of Civil Works
"
Timber Structure Inspection Pros
We Have Over 40 Years of Experience Inspecting Wood Structures
Timber structures have a very long lifespan. If you look at some timber bridges, you'll see that some are one hundred years old and still in service. The lifespan of a timber bridge is based on how you build it.
Something as small as putting a nail in the wrong place, can greatly lower a timber bridge's lifespan. Our methods and techniques that we have developed can expand the life of a timber bridge by another one hundred years.
Timber Bridge Inspections
One of our many specialties is timber bridges. We've inspected bridges all over the globe including places like:
Keystone Wye – South Dakota, USA
Gillies Bridge – Cessnock, Australia
Newry Islands Bridge – Queensland, Australia
Hokkaido Bridge, Japan
Heritage Bridge Walkway – Durham, Ontario
Arch Bridge – Austria
Saving Money
It is often cheaper to fix a bridge than to build another. Our inspections have proven that irreparable bridges could be fixed. Keyston Wye, a timber bridge outside Mount Rushmore, was estimated to be millions of dollars to repair. After our inspection, we proved that it would only cost $250,000.
Saving Time
It is always faster to fix a standing bridge than to build another. Since our tests have shown that irreparable bridges can be fixed, the bridge doesn't need to be closed as long, or at all.
Saving Heritage
We have found solutions to bridges that could not be fixed, this includes heritage monuments like covered bridges. These structures are cherished and should be saved for generations to come. We can extend their life up to another one hundred years.
Timber Structure Inspections
Past Projects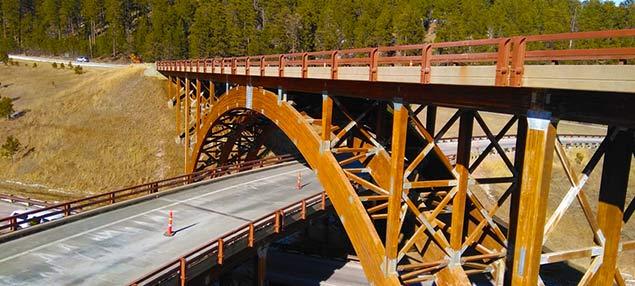 Highway Bridge
Wood Research and Development (WRD) was selected to complete a level II bridge inspection of the Keystone Wye Interchange which consists of two timber highway bridges, the 411 (lower bridge) and the 412  (arch bridge).  Non-destructive tests, including stress-wave timer testing, were carried out to find the health of the main timber structural elements.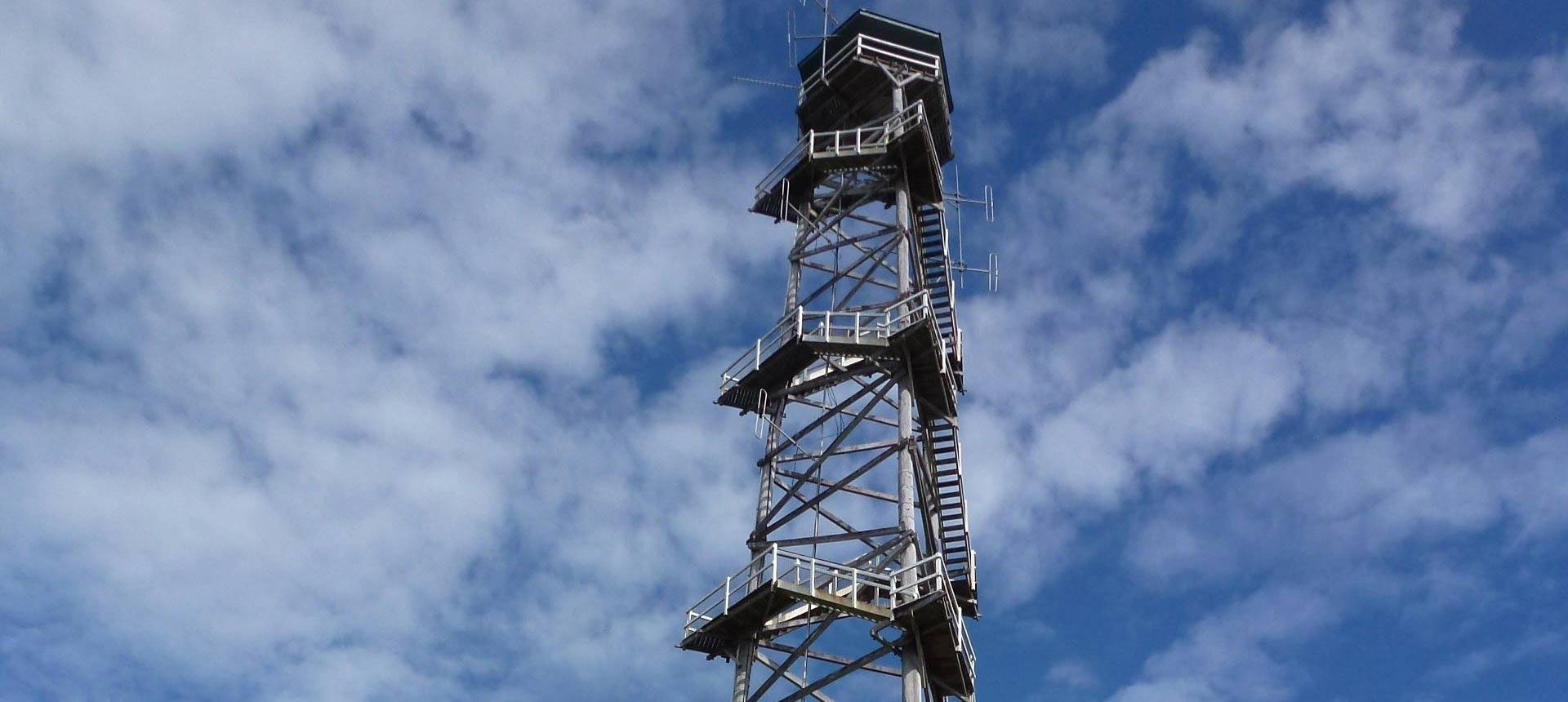 Fire Tower
Jimna Fire Tower is a 47-meter high wooden fire tower built in 1977 in Queensland, AUS.  Wood Research and Development (WRD) was selected to do a complete test and structure assessment of the tower. 
The main goal of the project was to figure out the tower's current health condition and to develop, and price, options for its restoration or dismantle.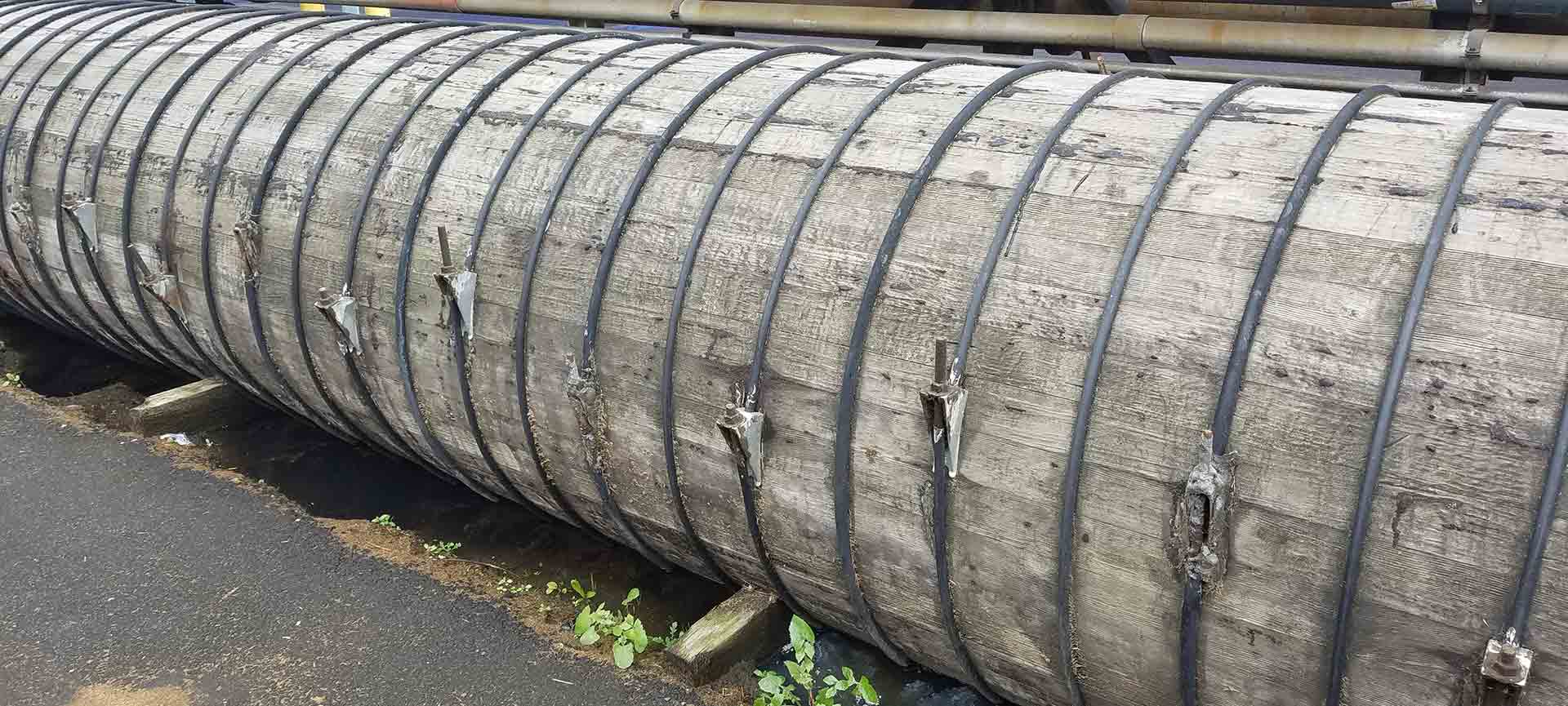 Stave Pipe
Wood Research and Development (WRD) was selected to inspect the structural health of the wood stave pipe used to drain the sewage and the plant's liquid waste from this paper mill. Due to the age and importance of the stave, concerns about the remaining service life of the pipe initiated this analysis.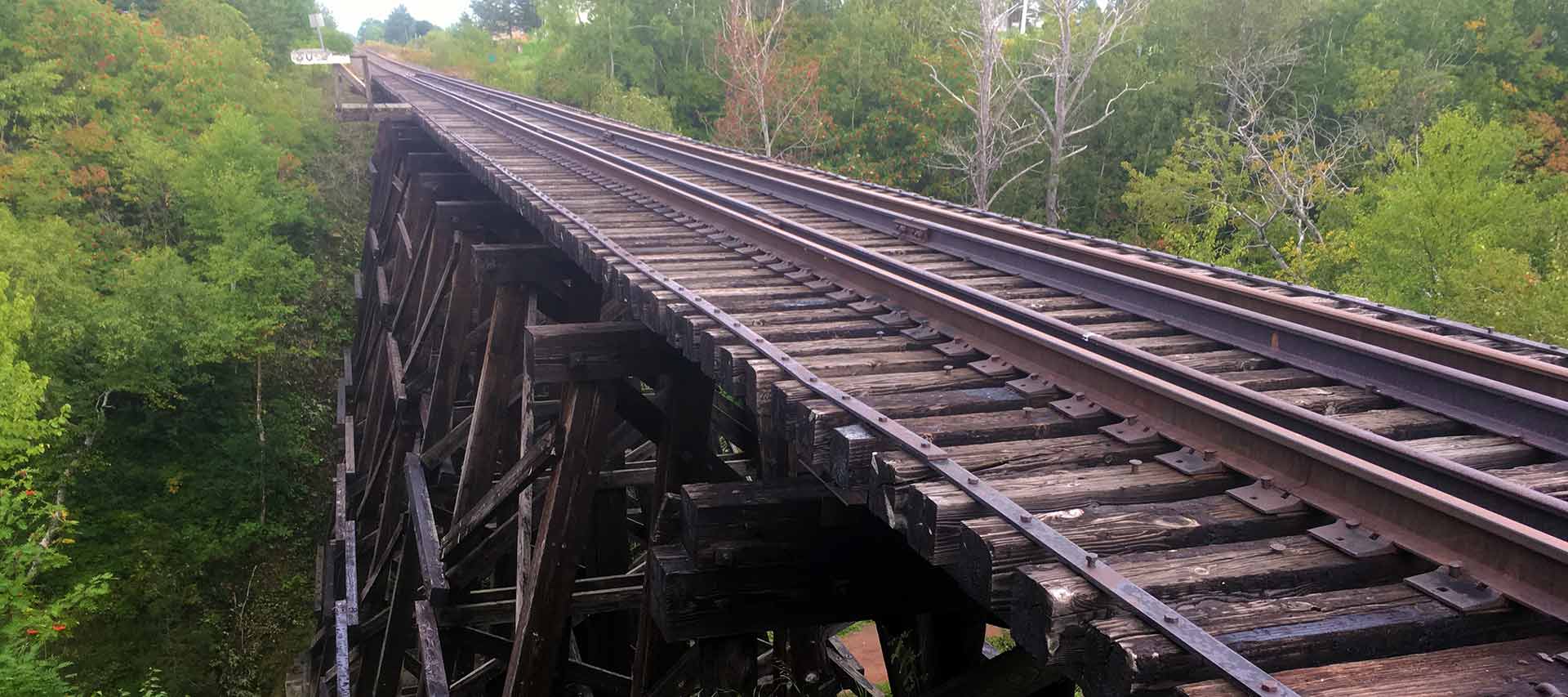 Railroad Bridge
Wood Research and Development was commissioned to complete a Level II Condition Report and Load Assessment of this timber trestle in Quebec.  This 14 span railway bridge with timber pile and frame bent supports was found to be in poor condition, based on degradation of both superstructure and substructure elements.